Craig Turley Orchestra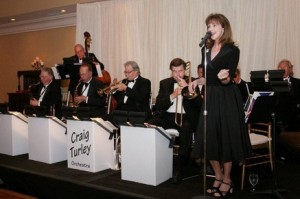 Available nationally, Craig Turley Entertainment has been providing quality bands and show orchestras for some of America's most prestigious entertainers and corporations. Utilized as a featured show orchestra, as celebrity accompaniment, as a recording orchestra for industrial shows and as a Big Band for dancing, the Craig Turley Orchestra has the repertoire and professional experience to satisfy every entertainment and musical request. Craig Turley began his performing career in the late 70's when he was chosen to perform with Donny & Marie Osmond. Since then his performance dates have included concerts with the Minneapolis Symphony, the San Francisco Festival Pops Orchestra, the Disney/MGM Studio Show Orchestra, the Henry Mancini Pops Orchestra, and the National Theatre Show Orchestra in Washington D.C. He was also the featured trumpet soloist with Andrew Lloyd Weber's National Touring Company of CATS. Band can play dinner music, processional and awards fanfares, as well as big band and swing dance music.
Listen to an Audio Demo of Craig Turley Orchestra
---
Elegant Strings
For a sophisticated style, enjoy the offering of Elegant Strings.  From a strolling violinist to a dynamic sextet that includes grand piano and upright bass, let Elegant Strings provide your event with a refined "ELEGANT" touch!
Visit the Elegant Strings Website
---
Greg Pakstis – Solo Guitar
Greg is a seasoned pro with over 25 years experience as a guitarist at restaurants and private events including fundraisers, tributes, private parties and weddings.  His amazing repertoire consists of nice and easy swing standards, bossa novas, and ballads to something a little more energetic, hip,  groovin', but still not overbearing, like smooth jazz and tastefully chosen pop covers.  Of if is quiet sophistication you are looking for, Greg can perform classical guitar and pop arrangements for that subdued yet upscale background ambience.
---
Jeff Scott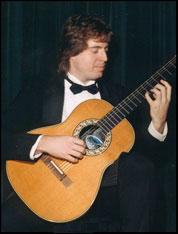 Featuring solo guitar music in any style including: traditional Classical repertoire of Bach, Beethoven, Mozart, Vivaldi, and more; Jazz standards in the tradition of Nat King Cole, Duke Ellington, and Dave Brubeck; Spanish/Brazilian in the tradition of Albeniz, Flamenco, and Jobim; and Popular/Top 40 arrangements of everything from The Beatles to Jimmy Buffett, Jeff's music provides the perfect setting for, special events, private/corporate parties, romantic dinners, luncheons, or just beautiful, elegant, and classy ambiance music for any occasion.
Listen to an Audio Demo of Jeff Scott
---
Nova Era – Classical with a Groove
"Classical Music With a Groove". This unique ensemble is the embodiment of Classically influenced music for a new millennium. Nova Era has delighted audiences of all ages and nations. Previous engagements have included Disney World and National Corporate Events. All of the musicians have been featured with major Symphony Orchestras both abroad and in the U.S. The performing musicians are featured in one of a kind artistically handcrafted costumes donning spectacular wigs or can be classically attired in tuxedo or less formal in all black. We offer a lively, tasteful, "theme" attraction guaranteed to delight. Our performances are both visually and musically captivating. We invite you to explore "Nova Era"…
Listen to an Audio Demo of Nova Era – Classical with a Groove
Visit the Nova Era – Classical with a Groove Website
---
Randy Holbrook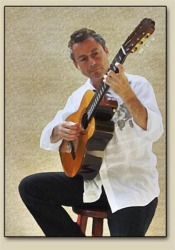 Randy Holbrook is a master guitarist with the technical skills and artist's passion possessed by only a select group of musicians.  His professional career spans more that three decades.  Today Randy can be seen playing lead guitar for Off Kilter, a Celtic rock band featured at WDW's Epcot theme park, as lead guitarist for Mechanical Soul, an ensemble offering an eclectic New Age style., as a featured part of the "Shamu Rocks" show at Sea World, as well as various conventions and special events.  Beyond his talents for creating rock, Randy's musicality is expressed in smooth jazz, world music and county.
---
Strings N' Things Quartet
Elegance and refinement are reflected in the classical and semi-classical sounds of the Strings N' Things Quartet. Instrumentation will include two violins, a viola and a cello. This group will add an air of sophistication to any event.
Listen to an Audio Demo of Strings N' Things Quartet
---
Victoria Schultz (Harpist)
Harpist Victoria Schultz is equally skilled in both popular and classical styles of musical performances. The harp reflects true elegance and sophistication. Victoria has performed with pre-show entertainment for Debbie Reynolds, the Boston Pops Esplanade, Michael Crawford, Don Johnson and Tony Bennett.
Listen to an Audio Demo of Victoria Schultz (Harpist)
---