Basin Street Dixieland Jazz Band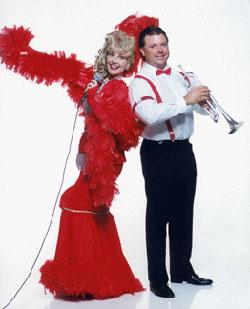 Featuring the talents of trumpet player Mark Zauss, The Basin Street Band will create a musical impact. This brass band is guaranteed to cause some hand clappin' and toe tappin' as they play your favorite New Orleans style tunes. Instrumentation includes trumpet, banjo & tuba (3 pc. strolling) or trumpet, banjo, tuba and vocal (4 pc. strolling).
Listen to an Audio Demo of Basin Street Dixieland Jazz Band
Visit the Basin Street Dixieland Jazz Band Website
---
Beth McKee
Available from three to seven pieces, the Beth McKee Combo specializes in light jazz & pop standards. Since she is both a singer and piano player, in addition to performing strictly instrumental tunes, Beth's critically acclaimed soulful vocals provide an elegant musical backdrop. She croons pop and jazz standards from the likes of Norah Jones, Frank Sinatra, Dionne Warwick and Etta James. To add punch to an all-evening event, these tunes can be intermingled with classic Soul and R&B hits from the 60s & 70s by Al Green, Tina Turner, Otis Redding and Aretha Franklin. Beth is joined by a group of experienced and talented musicians and vocalists including her husband, well-known drummer & percussionist, Juan Perez. The Beth McKee combo can perform upbeat yet unobtrusive background music for any corporate event, private party or cocktail reception.
Visit the Beth McKee Website
---
Beth McKee Band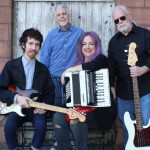 Let the good times roll with the Beth McKee Band! Transplanted from the swamps of Louisiana to the swamps of Florida, this group provides the best in smokin' down home music. Their repertoire consists of Beth's original compositions, a healthy dose of Nawlins' R & B, a smidgen of Cajun/Zydeco, a touch of blues and soul, and a little bit of country. Beth is a musical veteran who has toured with the likes of Jimmy Buffet and Buckwheat Zydeco. Her husband, Juan, who is also in the band, was a long-time member of the Bellamy Brothers Band.
Listen to an Audio Demo of Beth McKee Band
---
Breezeway Trio
Experience an evening of balmy breezes and changes in latitude as our trio of well versed Florida style musicians welcome your guests to the event.  They will perform a multitude of traditional and contemporary crowd-pleasing tropical, easy listening and party standards, including a healthy dose of Jimmy Buffett classics.
---
Buzzcatz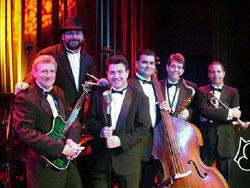 The Buzzcatz will strut their way down your alley with a magic bag full of swingin', croonin', dancin' under the moon tunes that will take your event to new heights. Their repertoire includes a cool mix of swing, soul, blues, and rock 'n' roll. From Sinatra to the Stones, charismatic front man Ricky Sylvia takes the crowd on an exciting musical journey with the help of his ever-versatile band made up of Central Florida's finest musicians.
Listen to an Audio Demo of Buzzcatz
---
Eddie Marshall Trio
The area's finest jazz musicians combine their talent and professionalism in this polished and entertaining quartet, lead by flutist/saxophonist Eddie Marshall. Eddie has toured and/or recorded with some of the countries most well known jazz artists. Performing a wide variety of standard and contemporary jazz arrangements, Time Out will set just the right tone and atmosphere for your event.
Listen to an Audio Demo of Eddie Marshall Trio
---
Harmony Lane Trio
The Harmony Lane trio is a talented and eclectic group that is capable of taking your special event in many musical directions.  This group can provide a night of Jazz, R & B or Tropical, all with vocals, without vocals, or a blend of both.  Providing you with whatever your musical needs are from elegant atmosphere for dinner, to a tropical pool party and beyond is their goal for your event.
---
Heather Rice
Heather Rice is a pianist and vocalist that appeals to audiences of all ages.  From the classic jazz standards to current pop selections, and even a few originals.  Heather has a unique charm in her voice and style that captivates every listener.  Whether performing as a soloist or as a trio accompanied by bass and drums, she delivers a sound that is great for any situation from light background to a featured performance.  She is a Central Florida favorite, performing regularly at The WDW Swan, The Grand Bohemian, The Wyndham Grand and numerous others.
---
Johnny Cool & the Mobster Swing Band
A fun, ten piece swinging, contemporary band. More high energy than a traditional swing band, they can perform music from the swing era to the current dance classics of today. This particular group can read an audience and has the capability to perform exactly what will make your event a huge success.
Listen to an Audio Demo of Johnny Cool & the Mobster Swing Band
---
Longineu Parsons Quartet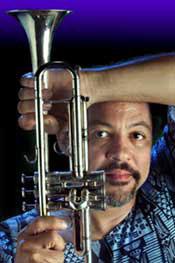 Longineu Parsons Quartet – Longineu Parsons has been hailed by critics internationally as being one of the world's finest trumpet players. He is also a master of recorders, flute, percussion, and sings the blues. His music crosses genres and defies classification. It's jazz, its funk, its blues, its classic, it's urban, its world fusion, and it's good. His quartet consists of Longineu on trumpet, flugelhorn, and recorders, accompanied by keyboards, bass and drums. Other instruments may be added for a larger ensemble. Longineu has performed in some thirty countries in North, South and Central America , Europe , Asia , the Middle East and Africa . His audiences have included such dignitaries as the King of Morocco, the President of Gabon, the Royal Family of the Netherlands , the President of Austria, the U.S. Ambassador to France, and the Royal Family of Monaco. Over his 25-year career, Longineu has shared the stage and recording studio with Cab Calloway, Nat Adderley, Cecil Taylor, Nancy Wilson, Joe Williams, Herbie Mann, Frank Foster, Mal Waldron, Philly Joe Jones, Archie Shepp, Sun Ra, Sam Rivers, David Murray, Hamiet Bluiett, Billy Harper, Hal Singer, Jimmy Witherspoon, Joseph Jarman, Don Moye, François Lindemann, Manu Dibongo, Pierre Akendengue, Sugar Blue, and many others.
Listen to an Audio Demo of Longineu Parsons Quartet
---
Mark Zauss & Stratosphere
Trumpet virtuoso Mark Zauss combines strength and soul to create a rich blend of diverse jazz that is always pleasing to the ear. Mark's appealingly personable performance generates a consistently enthusiastic response from his audience. His performances are composed of a set of rich harmonic styles including Contemporary Jazz, Rhythm & Blues, Upbeat Background Jazz, Romantic and Soft Jazz, Swing & Standards, Latin and Afro Cuban. Mark's soaring upper register communicates the essence of his music with his passionate interpretations of heartbreakingly beautiful melodies. He draws the audience in with lush, smooth tones, while on the upswing numbers he blows with a dark-roast. Mark and his group "Stratosphere", will breathe new life into your event with their renditions of soulful melodies.
Listen to an Audio Demo of Mark Zauss & Stratosphere
Visit the Mark Zauss & Stratosphere Website
---
Mechanical Soul
From the placid serenity of the rain forest to the vibrant pulse of the Serengeti. From the eerie chants of a distant mosque to the infectious beat of a metro dance club. Mechanical Soul delivers this with a combination of the latest in music technology couples with sensitive, skilled musicianship and a distinctive visual presence. Each performance of this group is a unique musical journey driven by provocative original songs and real-time composition to provide a true sense of excitement and intrigue.
Listen to an Audio Demo of Mechanical Soul
---
Mike Petrovich Jazz
Mike's mastery of the guitar is immediately apparent, whether he is performing solo or with his band Cayambe. With a strong background in jazz, classical, Latin, rock and pop, Mike Petrovich is an obvious choice for any function that requires great musical entertainment.
Listen to an Audio Demo of Mike Petrovich Jazz
---
Paradise Trio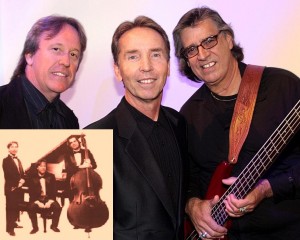 The Paradise Trio is Narada Records recording artist Wayne Gratz on piano and keyboards, Dan Cermeno on upright or fretless bass guitar and Lloyd Hanson on drums. This group of professionals has been performing together for 20 years. The music they perform covers a wide variety of Jazz, easy listening, standards and light instrumental popular music. The Paradise Trio is appropriate for dinners, cocktail parties, receptions, fundraisers and private parties as well! Let The Paradise Trio complement your next special event.
Listen to an Audio Demo of Paradise Trio
Visit the Paradise Trio Website
---
Parsons/Shumate Blues Project
Parsons and Shumate take dead aim at the heart of American music with this blistering, no holds barred modern interpretation of the Blues. Parsons and Shumate have received national and international attention for their accomplishments in such diverse styles of music as jazz, latin, fusion, bebop, blues and contemporary classical music. Critics and fans alike hail both as virtuoso instrumentalists.
Listen to an Audio Demo of Parsons/Shumate Blues Project
---
Phoenix Jazz
This trio can provide instrumental background music with a variety of styles ranging from jazz standards to easy listening contemporary favorites. They will provide the perfect atmosphere for your reception at the perfect volume for conversation.
Listen to an Audio Demo of Phoenix Jazz
---
Sheba & Company

Sheba is a seasoned and soulful vocalist performing sweet blues with the best of 'em!!! From the bayous of the Mississippi to the streets of Chicago, this duo serves up a helpin' of blues to satisfy anyones apptite. Winning hearts one by one, Miss Sheba Israel takes command of the stage. Her growling voice and audience interaction will have the crowd on their feet!!!
Listen to an Audio Demo of Sheba & Company
---
Solo 2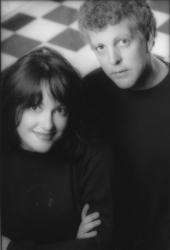 As Solo2, Beth and Juan provide a classy, continental sound with piano, percussion and vocals. Elegant and understated, they perform Jazz , Pop and Latin standards making them a natural choice for a variety of events. With songs made famous by Ella Fitzgerald, Sarah Vaughn, Frank Sinatra, Diana Krall and Norah Jones, the beat alternately swings with the sound of Big Band and sways with Latin Bossa Nova. On the Torch ballads, Beth's sultry vocals hypnotize and captivate. Solo2 strives to set the perfect mood for any party and client satisfaction is the number one priority.
Visit the Solo 2 Website
---
The Cook Trio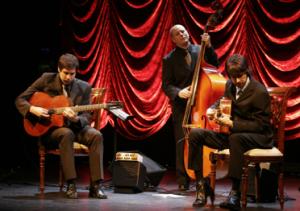 This acoustic group performs traditional Gypsy and classic American Jazz standards, as well as original compositions all in the Gypsy Jazz style. Paying homage to American Jazz legends, such as John Coltrane, Miles Davis and Thelonius Monk, The Cook Trio's unique approach to this music is characterized by both song selection and their use of tempo and dynamic variations to achieve greater emotional effect.
---
The Sophisticates
This totally unique ensemble creates a distinctively new concept in sound and music performance! With classical arrangements of pop favorites, jazzed up versions of the classical literature and new age music played with pizzazz, The Sophisticates explore an exceptional repertoire that is new to most all audiences. These talented and professional musicians (instrumentation includes cello, piano, bass and percussion) all have backgrounds in classical, jazz, pop and new age music styles. The music included and their performance style is best suited for, but not limited to receptions, dinners, fundraisers, wedding ceremonies and even awards presentations. The Sophisticates perform music by: Aaron Copland, Andrew Lloyd Weber, Antonio Carlos Jobim, Bach, Beethoven, Billy Joel, Burt Bacharach, Christopher Cross, David Foster, Duke Ellington, George Gershwin, George Harrison, Glenn Miller, Hoagy Carmichael, James Taylor, John Williams, Lennon & McCartney, Mendelssohn, Mozart, Pachelbel, Paul Simon, Ravel, Richard Strauss, Steely Dan, Stevie Wonder, Sting, The Eagles, Thelonius Monk, Van Morrison and others.
Listen to an Audio Demo of The Sophisticates
Visit the The Sophisticates Website
---