Beth McKee
As a solo pianist and vocalist Beth covers many styles from pop music to Jazz, R&B and blues. She has worked at popular Central Florida restaurants Seasons 52 and Anaelle and Hugos' as well as a plethora of private and public engagements around the country. Other Orlando venues include The Ritz Carlton, Gaylord Palms Resort, J.W. Marriott, the Omni Resort at Championsgate, and House of Blues. Her performance style easily adapts to any situation from being a musical backdrop for a cocktail reception to commanding an audience's attention and participation in a concert or party setting. Her extensive song list includes something for everyone and her affable style appeals to all age groups.
Visit the Beth McKee Website
---
Bryan Wilson as John Lennon
The ultimate tribute to the legendary John Lennon. Bryan has performed as John in numerous Beatles tribute bands. He can mix, greet and mingle in costume and performs your favorite John Lennon songs.
---
Greg Pakstis – Solo Guitar
Greg is a seasoned pro with over 25 years experience as a guitarist at restaurants and private events including fundraisers, tributes, private parties and weddings.  His amazing repertoire consists of nice and easy swing standards, bossa novas, and ballads to something a little more energetic, hip,  groovin', but still not overbearing, like smooth jazz and tastefully chosen pop covers.  Of if is quiet sophistication you are looking for, Greg can perform classical guitar and pop arrangements for that subdued yet upscale background ambience.
---
Mark Zauss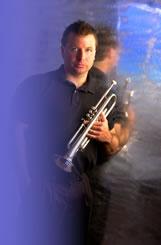 Trumpet virtuoso Mark Zauss is endorsed by the Conn-Selmer Corporation along with Arturo Sandoval, and Maynard Ferguson. He combines power with flexibility when playing in the extreme upper register of the horn. Mark has appeared worldwide as a Guest Soloist and Clinician.  He brings to the stage his influences from many of the jazz legends he has shared the stage with:  Auturo Sandoval, Branford Marsalis, Pat Metheney, Louis Bellson, James Moody, Maureen McGovern, Harry Connick Sr. and many more.
Visit the Mark Zauss Website
---
Randy Holbrook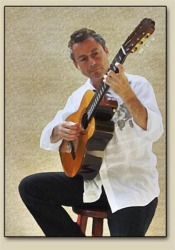 Randy Holbrook is a master guitarist with the technical skills and artist's passion possessed by only a select group of musicians.  His professional career spans more that three decades.  Today Randy can be seen playing lead guitar for Off Kilter, a Celtic rock band featured at WDW's Epcot theme park, as lead guitarist for Mechanical Soul, an ensemble offering an eclectic New Age style., as a featured part of the "Shamu Rocks" show at Sea World, as well as various conventions and special events.  Beyond his talents for creating rock, Randy's musicality is expressed in smooth jazz, world music and county.
---
Victoria Schultz (Harpist)
Harpist Victoria Schultz is equally skilled in both popular and classical styles of musical performances. The harp reflects true elegance and sophistication. Victoria has performed with pre-show entertainment for Debbie Reynolds, the Boston Pops Esplanade, Michael Crawford, Don Johnson and Tony Bennett.
Listen to an Audio Demo of Victoria Schultz (Harpist)
---