Caliente
Caliente is Orlando's #1 Hottest New Latin Crossover Band! Caliente has gained the reputation of being one of the hottest bands in the country, certainly the hottest in Central Florida. Caliente is a musical organization made up of the Top Latin Entertainers in Central Florida. The band includes: A percussion section of drums, congas, timbales, bongos etc. keyboards, bass, guitar, brass section, and vocals.
Listen to an Audio Demo of Caliente
---
Cayambe with Mike Petrovich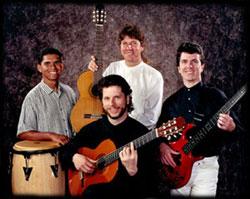 Mastery of the guitar is immediately apparent with this versatile band. Whether Mike Petrovich is performing solo or with his band Cayambe, there is a sense of musical magnetism that is hard to deny. Upbeat background music. Repertoire consists of Jazz, Adult Contemporary, Latin and classical pop.
---
Latin Ambition
This exciting mix of Authentic Latin American Salsa, Merengue, Bachata, & Cumbia seamlessly blending into American Top 40, Pop and Rock has yet to be seen at this level of eclectic diversity.  Taking what makes Blonde Ambition so unique and special and adding its Latin twist is a perfect for any party hoping to connect with a uniquely diversified audience.  Traditionally this specialty combo come in a 12 piece package, but can be larger or smaller depending on the clients needs.
From the second this high energy party band hits the stage, the music NEVER STOPS!  Today's party scene demands a fast-paced, DJ style approach to live music and Latin Ambition is sure to deliver like no one else can with unexpected twists and turns to excite the crowd every of the way!
---
Latin C'nergy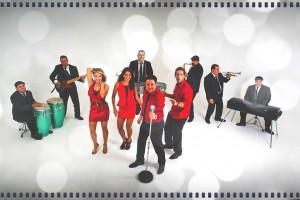 Comprised of highly=talented musicians from Venezuela, Cuba and Puerto Rico, this internationally diverse band offers up the best in Latin party music.  Performing Salsa, Cumbia, Rock Latino, Bachata, Merengue, Vallenato and even Top 40 with a "Spanglish" twist, they are a sure=fire hit with any audience, keeping the dance floor packed from start to finish.
---
Luis Garcia
Offering Classical, Flamenco, Latin and Jazz guitar music, Luis Garcia has been performing and entertaining in Central Florida for nearly 20 years.  Luis' music selection is sophisticated, colorful and passionate – excellent for any occasion.  He is a classical guitarist with formal training at El Conservatory de Musica de Puerto Rico, and the University of Central Florida.  Additionally, Luis has received Flamenco guitar lessons on world renowned flamenco guitarist Juan Serrano.  If you are looking for UPB EAT, HIGH ENERGY, FUN, SHOW-OFF guitar music:  Luis Alfredo incorporates drums/bass tracks into his music to create a ONE-MAN-BAND-GUITAR SHOW.  He has developed a unique sound of Latin-Jazz, and Flamenco fusion – it can be simply described as "SMOOTH JAZZ ON CAFFEINE".  It is not unusual during Luis' performance for people to get up and start dancing.  Each performance will bring something new and exciting!
---
Luis Rojas Latin Trio
This Latin inspired instrumental trio, led by Luis Rojas performs tasteful background music that includes Merengue, Salsa, Cumbia and more.  Consisting a guitar, percussion and bass, this trio is just the right touch for any Latin themed event
---
Ritmo Caliente
With their dazzling costumes and dancers, Ritmo Caliente Del Caribe Orchestra & Dance Troupe present a variety of Latin/tropical themed interactive Shows instantly transforming your party into the biggest "Copa Cabana" extravaganza this side of Havana. By the time it's all over, chances are that you participated in a "Conga" line, learned some great salsa dance steps, played the maracas, or perhaps smoked a hand-rolled cigar. It's non-stop salsa, merengue, mambo, paso doble, Latin Jazz, Brazilian bossa nova, samba and -tango from many of today's most popular Latin artists as well as the HOTTEST mix of American party music by request, including 70's Disco, R&B, 50's swing and contemporary selections.
Listen to an Audio Demo of Ritmo Caliente
---